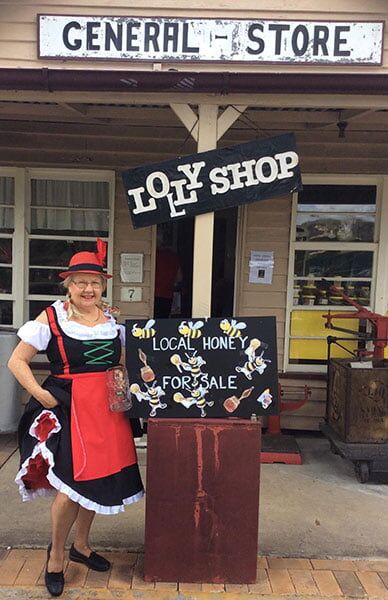 BOOKINGS
Group Tours and
School Excursions
We have become a popular tourist destination for school students, families & tour groups. The Beenleigh Historical Village features early Australia memorabilia, collections of interesting and historical items and even entire buildings which have been lovingly preserved and restored. With twenty heritage buildings filled with original items used by those who lived in the 1860s and onward, there is plenty to see, do and experience.
Group Tours
Group Bookings
Tourists, seniors groups, vacation care programs, car and bike clubs and many other community groups enjoy both our guided and self-guided tours. Groups can easily spend a few hours here as they wander through the buildings and memorabilia and of course take a break for refreshments at the Tin Cup Cafe. We recommend allowing a minimum of 2-3 hours.
We can hosts group bookings for numbers from as small as 10 to as large as 150 visitors.
Guided Tours
Our local volunteers are friendly, well-informed and passionate about preserving a working knowledge of our local history and culture. Our volunteer tour guides will lead your group on a journey through the historic buildings, allowing you to be a part of forgotten activities such as good old-fashioned washing, blacksmithing & woodcutting and lessons in our authentic late 1800s school complete with slates, and the oldest 3D glasses in the world!
Self-Guided Tours
Self-guided tours are also available so you are more than welcome to wander through the Village's impressive collection of early Aussie buildings and memorabilia in your own time, while enjoying the many original displays and unique collections that are part of the museum.
Finish off your tour with billy tea and damper, made on site.
School Excursions
School lessons about Early Australian History come alive with an excursion to the Beenleigh Historical Village & Museum.
The Educational Village offers fun & immersive demonstrations and also includes interactive, hands-on experiences of how life was for school students of all ages. We continue to be a popular destination for many schools throughout south-east Queensland. If your school hasn't visited us yet, then please contact us here about our school excursion experience. We would love to welcome you to the Village and show you how we bring history to life.
Inquire online or phone (07) 3382 0608 to book
Entry Fees
SINGLE ENTRY PRICES
Adult: $10.00
Concession Card Holder: $8.00
Student with ID Card: $6.00
Children under 12: $6.00
TOUR (Less than 10 people)
Tour Guide: $30.00 per hour
Adults: $11.00
Concession Card Holder: $9.00
Student with ID Card: $9.00
Children under 12: $7.00
TOUR Guided Tour only (Minimum 10 inc Guide)
Adults: $11.00
Concession Card Holder: $9.00
Student with ID Card: $9.00
Children under 12: $7.00
TOUR inc Guide + Damper + Billy Tea (Minimum 10)
Adults: $15.50
Concession Card Holder: $13.50
Student with ID Card: $13.50
Children under 12: $11.50
SCHOOL EXCURSIONS
Demonstrations only $10.00
Demonstrations + sausage sizzle + drink $15.00
Parents (entry only) $8.00
Parents entry + sausage sizzle + drink $13.00
Teachers + sausage sizzle + drink $5.00
Teachers: 1 teacher free per 20 students
Bookings Essential – BOOK HERE